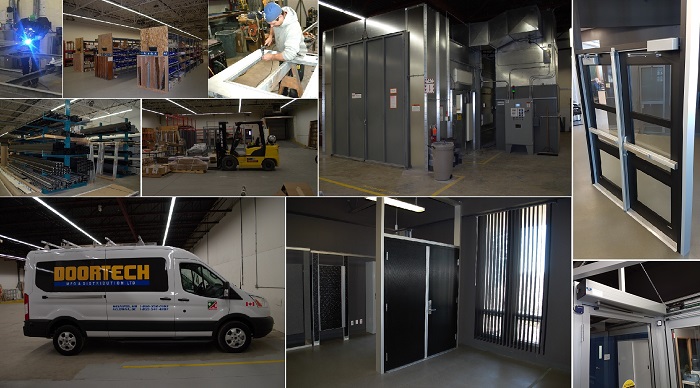 Careers
Doortech Manufacturing and Distribution is a provider of hollow metal and wood doors, aluminum frames and windows, curtain walls and automated entrance systems for the commercial industry. At Doortech, we take pride in putting our customers first by providing superior, professional, friendly service. At Doortech Mfg & Distribution Ltd. we are always looking for energetic and hard working team players. If you would like to join a winning team in a growing company, please forward your resume to: careers@doortechltd.ca.
530 Sheppard Street, Winnipeg, Manitoba, R2X 2P8
E-mail: careers@doortechltd.ca
We are currently looking for a motivated individual to join our Production team as a Painting Prepper, in our Paint Dept.*(focus on repair and bondo work). Someone who has the ambition to learn, as we are willing to train the right candidate! Current experience working as a prepper in the Automotive or Manufacturing Industry required.
JOB OVERVIEW:
Responsibilities:
Day to day responsibilities will be assisting the Painter. Preparing, masking, sanding and cleaning doors & frames.
Place work orders onto production board and review work orders prior to beginning work.
Retrieve finished product from other departments that are ready for prepping.
Meeting quality standards on a consistent basis as set forth by the Paint Department Foreman and / or Production Manager.
Wrapping of painted products for Shipping, Delivery and/or Pick-up.
Perform general housekeeping duties to ensure the work area is clean.
Regular and predictable attendance, the ability to safely perform tasks, and adherence to all safety policies and procedures are essential functions of this job.
All other duties as assigned from time-to-time.
SKILLS & QUALIFICATIONS:
Basic knowledge and experience of Metal/Autobody prep work, mechanical aptitude.
Heavy lifting required (60 lbs or more).
Ability to read and comprehend instructions and information.
Must demonstrate good observation skills and attention to fine details.
Demonstrated commitment and willingness to learn and succeed.
Must be team oriented, hardworking with a positive attitude.
Starting wage will be based on the successful applicant's skills and experience. Participation in the company's cost-shared employee benefits plan after three months. Growth potential is unlimited.
Please submit your résumé and work references by email. Only those applicants to be interviewed will be contacted.